Before I started Barn Blooms I was an avid gardener. I love the peace that comes from working with your hands and seeing the fruit of your labors. I also am a planner, and start my Christmas shopping in August, so this week I thought I would share a gift guide for the gardener in your life!
Duluth Trading Waterproof Pants
If you work in the garden, or outside for that matter, you know that things can get muddy and wet. This time of year, at the farm I am sitting on the ground planting seedlings and bulbs, and having dry clothes is a MUST. So, for my first must-have recommend it is the Duluth Trading Waterproof Pants. For my tall friends, these pants are long, and they also have an insulated option for the colder months. These are by the far the best outside work pants I have ever owned.
https://www.duluthtrading.com/womens-flexpedition-lined-straight-leg-pants-75753.html?dwvar_75753_color=BLK&cgid=womens-bottoms-work-pants#start=3&cgid=womens-bottoms-work-pants
They are on sale right now too!
Grunden Waterproof Overall
If you are out in the rain and cutting flowers or tending to your garden, you need waterproof overalls. Grundens are designed for fisherman on boats in the ocean, and therefore really hold up well to the rain out in the garden. Throw these on over your waterproof pants, put on a raincoat and your good to go!
https://grundens.com/shop/collections/commercial-fishing/womens-neptune-bib/
XtraTuf Boots
Being a horse girl most of my life I have worn my way through my fair share of muck boots. I have never found a pair that stands up to the water, mud, and can last without cracking. Most of my wellies have cracked right where they bend at the toe when you walk. The XtraTuf Boots have lasted, and they still keep my feet dry. They are easy to slip on and come in lots of styles and colors. These are also designed for fishermen but work just as good in the garden!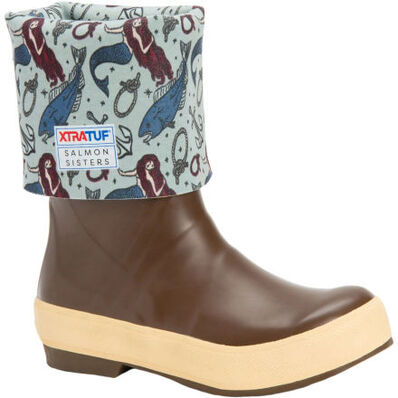 https://www.xtratuf.com/xt-w-ss-blu-mrmai/XWSL9BM.html
Green Moving Trash Pop Up
When you are cleaning vegetables off or weeding the garden this pop-up rubbish bin is the easiest thing to drag around and keep your area tidy. It pops-up for ease of use and can be collapsed back together for storage. I use this in the flower studio for clipping stems and it is still working hard after hundreds of trips to the compost pile!
https://www.amazon.com/Fiskars-94056949-Gallon-Kangaroo-Container/dp/B00004SD7D/ref=sr_1_2?crid=1QVM4M7UQQB97&keywords=fiskars+pop+up+garden+bag+hard+bottom&qid=1636073935&s=lawn-garden&sprefix=fiskars+pop+up%2Clawngarden%2C275&sr=1-2
A-Roo Pouch
If you grow vegetables this handy little apron is the best! You slip it on over your clothes and can tie the bottom up to store vegetables in or eggs from the coop! It doubles as a place to hold your gardening tools, gloves, or any weeds you pull on your trip to the field.
https://rooapron.com/product/roo-apron/?attribute_size=One+size+fits+all&attribute_color=Charcoal+Grey
Felco Clipper
My trustee Felco clippers are something I cannot live without! I especially like this design because the long nose on the clipper gives me great control with the flower stems. If you are harvesting vegetables you might want to look at one of the thicker blade options, but this model is inexpensive and gets the job done!
https://felco.com/en_us/produits/pruning-shears/felco-310
DeWalt Radio
Most of the time I listen to audio books or music while I am out in the field. I tend to not use headphones, because there are often times a lot going on out in the field/garden that you want to be aware of. To make listening to my favorite books or the Bills game a little easier I love to use our DeWalt Cordless Radio. These radios are designed to withstand construction site debris and damage and can run on your DeWalt batteries that I know you have in your basement or garage. This model is light weight and easy to carry around the garden.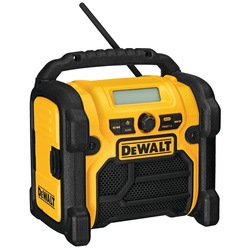 https://www.dewalt.com/products/storage-and-gear/jobsite-radios/18v20v-max12v-max-compact-worksite-radio/dcr018
Are there any products you recommend for the gardener in your life?